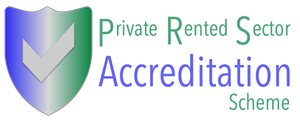 Aim of the Private Rented Sector Accreditation Scheme
The aims of the Private Rented Sector Accreditation Scheme are to encourage, acknowledge, raise awareness and actively promote good standards and management practice by landlords, and to assist landlords and tenants to undertake their respective responsibilities to each other.
The Scheme also encourages and acknowledges responsible behaviour by tenants through an accredited tenant scheme.
The Scheme comprises an element of self-regulation and accordingly relies on a degree of goodwill and trust on the parts of landlords, tenants and PRSAS.
It is a requirement of the Scheme that the physical condition of dwellings, the level of provision of basic amenities and management practices, are fair and reasonable, and not liable to be prejudicial to the health, safety and welfare of tenants or the surrounding neighbourhood.
Signatories to the Scheme must ensure that in addition to complying with the requirements of the Scheme, they also comply with their legal obligations
Compliance with the Scheme will ensure that:
Landlords, tenants and community members enjoy the benefit of good dwelling conditions, competent management and considerate neighbourly behaviour
Misunderstandings and disputes are reduced.
Where problems do occur they are promptly resolved.
Application
A landlord or agent makes an application and declares meets criteria, fit & proper and will comply with code of practice. We will check with the local authority whether you have any objections to the person being accredited.
Development Training
Every landlord or agent must have completed the development course. This can be completed online or at a face-to-face event. These courses can be arranged with you in a local council venue which keeps costs down.
Compliance and Complaint
Throughout accreditation, the member must continue to comply with our code of practice and criteria. CPD must be collected at the rate of 10 per annum which we randomly check. We have a full complaint procedure allowing tenants to complain against any member and we will deal with it.
Budget Cuts
We at PRSAS totally understand the difficulties local authorities are facing at the moment with their budgets.
The simple reality is, something has to give. We also understand that an accreditation scheme currently being run by a local authority could be one of the first things to be cut.
PRSAS provides local authorities the option of either asking us to run accreditation in your area in tandem with your own scheme or other commercially provided schemes, do nothing in which case we already provide accreditation throughout England, or, we can passport your existing scheme into ours with no fuss.
Development Course
All landlords and agents must complete our development course. The development course can be completed online or face-to-face. A local authority can assist greatly with attendance based courses if a room in a council building can be used as this reduces costs significantly.
The development course is based upon our revision of the Accreditation Network UK (ANUK) landlord handbook and the content has been created for amateur and experienced landlords.
The course is split into five sections namely:
Pre-tenancy
Landlords responsibilities and liabilities
Setting up a tenancy
During a tenancy
Ending a tenancy
Members must complete a test at the end of the course (online or face-to-face) and have a pass rate of 50% or better.
Please contact us to request access to a sample course.
Incentives
The more incentives a local authority can provide a landlord or agent who is accredited (and approved by the local authority) the more successful the scheme will be in any given area. Incentives don't have to cost the local authority much and incentives that could be offered include:
Discounted HMO licence fees
Dedicated local housing allowance named contact
Dedicated HHSRS named contact
Promise to write an informal letter regarding any non serious hazards before formal notice served
Free access to a local waste tip on specified days
Free parking permit for areas covering landlords property
Fit and Proper Person
All landlords or agents wishing to become accredited must declare that they are a fit and proper person by accepting the below declaration. In addition, we will provide details to the local authority and ask if you have any reason why you believe the applicant should not be accredited.
Our Responsibilities To You
We aim to do the following:
The scheme operator will work in close partnership with the local authority, landlords, any local bona fide landlord associations and other key private rented sector stakeholders.
The scheme operator will administer and monitor the scheme.
Maintain a database record of accredited dwellings, landlords and tenants which will be passed to the local authority who covers the area of the accredited landlord or agent.
Be responsible for the issuing, administration, suspension and revocation of accredited status (with prior consultation with the local authority).
Provide general help and advice e.g. standards.
Provide information on changes and likely pending changes in legislation by such means as landlord forums, newsletters, and through local landlord associations.
Assist landlords and tenants to achieve accreditation status.
Provide advice on energy efficiency measures.
By agreement with landlords provide a public list of accredited dwellings in which accommodation is available to let.
Provide incentives to joining the scheme
Provide a resolution service for tenant/tenant disputes, or signpost tenants to named arbitration services
Regularly consult with accreditation scheme stakeholders and act positively on feedback.
Complaints Procedure
All our accredited landlords or agents must adhere to our code of practice and criteria for being accredited.
If somebody has a complaint against one of our members, they may use our complaint redress scheme.
A tenant may use this procedure to complain against a landlord or letting agent member or, a landlord client of a letting agent who is a member may also use this complaint procedure although agent complaints will normally be passed to the new government approved redress schemes.