Private Rented Sector Accreditation Scheme (PRSAS)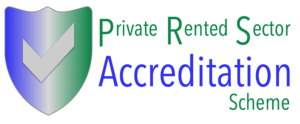 What is Accreditation for Landlords and Agents?
Landlords who let residential property in the private rented sector and letting agents who act on their behalf can be regarded as 'bad agents' or 'rogue landlords' just because of a small minority. In reality, the vast majority of landlords and letting agents do a fantastic job and provide quality accommodation for their tenants. Accreditation is for these people doing a fantastic job!
Becoming Accredited Is Easy
1. Register
Complete our quick and simple registration form and we will carry out some basic  "fit and proper" checks whilst you are completing the development course.
2. Development Course
Complete the development course and test on-line from the comfort and convenience of your own home or office. We also accept some approved courses provided by Training for Professionals. If your already accredited, passport for free.
3. Display Badge
Once you have successfully completed the development course, you get all the benefits of accreditation including the ability to display the badge and tell the world!
Benefits Of Being Accredited
Public Recognition
Be publicly recognised for being a good landlord and agent. We're tired of hearing the term "rogue landlord" or "rogue agent" and accreditation gives you the opportunity to stand out from the rest.
Discounted Buildings Insurance
Get discounted buildings insurance rates through the dedicated policy of the Guild of Residential Landlords.
Discounted Deposit Protection
Landlords get discounted deposit protection rates through the Deposit Protection Service insurance based scheme (meaning you can retain the deposit money in your own account).
Free Legal Updates
Free (optional) access to the email notifications of new articles by the Guild of Residential Landlords. Choose from regular or only the few more important articles.
Use the PRSAS Logo
Have complete use of the PRSAS logo to show off you are accredited. We have several options to suit landlords and agents.
Discounted Advertising
Landlords get a 50% discounted rate for advertising through upad.co.uk who will advertise your property to rent on all the big names such as Rightmove and Zoopla.
Dedicated Members Area
Make use of our dedicated members area where you can access the development course, mange your continuous professional development and obtain discount codes and links.
Marketing Edge
Tenants are more and more savvy and don't just want quality accommodation but also quality landlords and agents who offer quality service. Being accredited sets you apart from other landlords or agents who are not doing as good a job as you.
Local Authority
Some local authorities (but not all so please check) offer discounts and incentives for accredited members. These include discounted HMO licensing fees, dedicated point of contact, parking permits, free waste disposal and pre-action correspondence.
Webinars
Often
Training for Professionals
provide webinars on all ranges of landlord and tenant subjects. Often these are discounted or even free for accredited members.
Discount to Property Redress Scheme
Landlord
Online Development Course
GRL subscribers £30.00

Includes 1 connected person (family or staff)

Comfort of home or office

Discounted deposit protection

 Discounted buildings insurance

Public recognition

Free legal and news updates

Marketing edge

Display the PRSAS logo
Agent
Online Development Course
GRL subscribers £60.00

Includes 3 connected persons (family or staff)

The comfort of home or office

Discounted deposit protection

 + Discounted buildings insurance

Public recognition

Free news updates

Marketing edge

Display the PRSAS logo
Passport
Already Accredited?
Quick and easy passport

Discounted deposit protection

Preferential buildings insurance

public recognition

Free legal and news updates

Marketing edge

Display PRSAS logo
About Us
The Private Rented Sector Accreditation Scheme is run by the Guild of Residential Landlords (GRL) and Training for Professionals (TFP) provides the attendance based development course training.
The Guild of Residential Landlords has been established for over 30 years (known as Guild from 2000) and operates nationally. The brand is aimed at providing top class service and accurate legal advice on all matters relating to landlord and tenant law.
Training for Professionals exclusively provide the training for the highly successful Welsh Landlords Accreditation Scheme and also provides training to the London Landlords Accreditation Scheme. PRSAS is therefore well suited to running an accreditation scheme with years of experience.
The combination of the Guild operating as a national organisation offering help and advice to landlords and TFP providing training courses including webinars on a national basis makes the Private Rented Sector Accreditation Scheme the prime accreditation model for England.
Code of Practice and Criteria for Being Accredited
All landlords and agents must agree that they meet the criteria for being accredited and will comply with our code of practice throughout the term of accreditation.
Continuous Professional Development
In order to maintain accredited status, accredited members are expected to complete at least 10 CPD hours per annum.  When it comes to renewal, a short test will be performed by the accredited member at the time of payment. The questions will relate to new and upcoming legislation so act as proof of CPD. Subject to passing, then the development course will not be necessary.
In addition, we may request evidence of CPD at any time during accreditation or at the renewal stage.
Activities that provide CPD hours include:-
Completing CPD content provided by us. A list of available CPD is on the membership page
Passing the online or attendance based course will earn 8 CPD hours
One year's subscription to the Guild of Residential Landlords will earn 6 CPD hours
Being a member of other recognised landlords associations (NLA, RLA, NALS etc.) earns 4 CPD hours
Attending local authority forums (CPD hours depends on the forum but as a rule, 1 per hour)
Attending landlord association meetings (CPD hours depends on the meeting but as a rule, 1 per hour)
Any training (attendance based or webinars) provided by Training for Professionals will notify you of the number of CPD hours the training is worth.
A letter of recommendation from a tenant, which includes confirmation that the landlord has complied with the Code of Conduct, may also contribute to CPD. The tenant would need to be willing to provide their contact details and a copy of the lease signed pages.
Additional activities may be awarded CPD points, but are subject to approval by PRSAS. Any requests for CPD to be awarded for activities other than those included here should be submitted in writing to the scheme administrator.
Conditions for obtaining CPD:
Landlords must retain evidence of attendance at events and activities including online activities.
Local authorities may issue CPD certificates to landlords who participate in local authority events.
Spot checks will be conducted from time to time.
Penalties for the provision of false information or misrecording may include expulsion from PRSAS.